Hi All,
It's always a pleasure having author M.J. Kane visit my blog. Today she's going to tell us about her latest release to The Butterfly Memoirs. Okay, M.J., take it away!
Thank you, Sharon, for letting me come by and share a bit of my latest release,
Nobody's Business
!
I love the books that Sharon writes, mixing Suspense with Romance, and strong female characters whose career choices have lead them to non-typical jobs (female plumber anyone?) For the female lead in this story, I decided to give her a non-stereotypical job, too….female firefighter. In this snippet we see Kai Malone doing her job, fighting a fire in the middle of a rain storm. The conditions are life-threatening and a family is in need of help….enjoy!
Blurb:
Trevon Campbell's world changed the moment his ex-girlfriend announced he was a father. Determined to make up for his past mistakes, he gives Trina what she wanted before their breakup, what feels like his soul, which means forgetting the woman he had a one-night stand with, the woman who stole his heart.
Kai Malone doesn't want to play by her family's rules. Instead of working for the family business, she became a firefighter. Being a female of multicultural descent, working in a field dominated by men, Kai focuses on her job to ignore the infidelity of her fiancé. Tired of his deceit, she gave in to a one-night stand with a complete stranger, someone she'd never have to see again…or so she thought.
When tragedy strikes, their worlds collide, leaving them no choice but to deal with each other again. It doesn't take long for them to realize the attraction that brought them together the first time is stronger than ever, forcing Trevon to make the biggest decision of his life.
Snippet:
"Listen up!" We gathered around the chief. "We've got several scenarios happening simultaneously. According to the chief from Truck #73, the lower level is the source of the fire. They managed to clear it, and he has men on the second floor searching for people who are trapped. To top it all off, we've got several families trapped on the third. He's got a truck working rescue, but we need more men. We've got to get things under control. Now. Captains, get your teams squared away. Let's go, let's go, let's go!"
"Malone, you've got ladder! Lopez, back her up," my captain yelled.
"Yes, sir!"
I tightened my helmet and did a quick double check of my gear.
"Ready, Malone?" Lopez slapped my back.
"Ready!"
We waited impatiently as the truck maneuvered into position as close to the apartment building as it could get, then extended the ladder. The moment it connected with the first window seal, I ran to the base and grabbed hold of the wet railing. While my boots were water resistant and had extra grip to keep me from slipping, that didn't make the task easy. I forced myself to breathe easy and focus on every step I took. I had faith in my equipment, but no matter what measures were taken to make my job safer, human error could always screw things up. Lopez was on the ladder behind me as my back up. We moved systematically from window to window. I used my ax to break the glass and yell inside before we climbed through to make a quick search for anyone who may be unconscious, huddled in a corner, or in a room behind closed doors. So far, it appeared everyone was out.
After what felt like forever, we had two apartments left. I held on and braced myself as the ladder moved to the next window. I broke the glass and yelled before leaning in to repeat my call. I was about to step across the threshold when Lopez grabbed the back of my jacket.
"Malone! We've got one next door!"
"What?" I stepped back onto the ladder, taking extra precautions to keep from slipping.
He pointed to the final set of windows before using his radio to alert the captain of the situation.
The sight made my heart freeze.
A woman covered with soot leaned out of the window with what appeared to be a young child in her arms. A heavy curtain of smoke wafted out the opening behind her while bright red flames silhouetted her frame, meaning the fire had to be in the room she was in.
"Help us, please! He's not breathing!"
Damn.
I held on tight as the ladder moved.
"Ok, ma'am, I've got you. Hold on!"
The minute we got within range, I reached for the child. Fear and relief were evident on the mother's face beneath the soot and grime. "Please, help him, he's not breathing!" she said between heaving gasps and coughing.
I took the child from her; he was limp in my arms. I tried to be as gentle as I could, but unconscious, his limbs flailed around as if he were a rag doll. With my gear on, there was nothing I could do in order to resuscitate him.
Adrenaline pumping in my veins, I turned to my partner and handed him off.
"Lopez, get him to a medic, now!"
He took the young boy in his arms, balancing his weight while taking each step down the ladder as fast as he could under the dangerous conditions.
I turned to the woman who now gagged repeatedly. Her face was streaked with tears that mixed with black soot.
"It's okay, my partner has him. Now it's our turn to go down, okay? It's slippery out here and I know you want to hurry down in order to get to your son, but we have to take our time. Okay?"
She nodded and focused on me.
I held my hand out and encouraged her to step out of the window and onto the ladder.
Her feet were bare and she bore the evidence of someone who had been fast asleep when disaster struck. Though she had stopped crying, it was obvious she was scared. Once on the ladder, she froze.
"I'm scared of heights!" Her fingers seemed to be fused to the wrung and her body was curled up tight.
"It's okay, I promise. I know it feels odd on this ladder, but we aren't that far from the ground, it's all a matter of prospective." That didn't help any because she now whimpered.
Glass broke in the distance, and it wasn't from someone trying to be rescued. It was the sound of something exploding due to the heat. That was not good.
This woman needed a distraction in order to get her to move. While I was trained to carry an unconscious person wherever I needed them to go, trying to carry her under these rain soaked conditions would not be smart. She was conscious and able to move on her own. She just needed motivation to get her feet going.
"What's your name? Mine is Kai."
The scared woman turned her head in my direction. "My…my name is Trina."
Away from the smoke, I got a chance to see her face, and in the back of my mind, she seemed familiar.
"Trina, it's nice to meet you. I wish it was under other circumstances, but that's life, right?" I looked behind me and saw Lopez touch the ground. A team of paramedics were nearby and took the little boy over to a stretcher where they started CPR. His mother couldn't see past me. "Trina, it's our turn to start moving, okay? It looks like the paramedics are working on your son. Tell me about him. What's his name?"
Trina attempted to look past me, but stopped the moment she saw how far up from the ground we were. "Justin…his name is Justin."
Justin?
"And how old is Justin?"
"Two, Justin is two!"
A chill went down my spine as I looked back down at the scene below; the paramedics were still working. Lopez stood nearby watching. He looked back up at me and his head nodded ever so slightly.
Oh God. If my memory served me right, Justin was Trevon's son…and this was his mother. I may have only seen them once, but their faces had been imprinted in my memory. Trina twisted around again to see her son. God…this really was Trevon's family.
"Come on, Trina, let's get to your son, he needs you."
My words got her moving. It wasn't fast enough, though. Between her wracking coughs from smoke inhalation and the slippery equipment, my job was to stay behind her and aid her in the descent.
Halfway down, she slipped and fell into me. I managed to catch myself, but the sudden weight of her body added to the weight of the gear on my back forced me to lose my footing. I grabbed onto the ladder, thankful for the safety clamp I had strapped to the railing, and stopped both of us from falling. Unfortunately, the sudden twist shot a pain up my spine and made me curse. I worked through the pain, guiding her down as fast as I could.
"I've got you," I managed through gritted teeth. "We're almost there, almost there!"
Instead of focusing on the pain, I thought about the little boy waiting at the bottom of the ladder who needed his mother.
The moment my foot touched the ground, I handed her off to another set of paramedics, then started stripping off my gear.
Lopez came over to check on me. "Damn, Malone, what happened?"
I ignored his question. "How's the boy?"
"He's breathing and being transported to Egelston Children's Hospital."
Thank God.
"What about you?" He helped me remove my oxygen tank.
"I'm hurt. I need a medic." I gave up on hiding the pain and sprawled out on the ground. Rain poured on my face, so I did my best to turn on my side. Lopez aided me in the maneuver then shielded me from the rain with the coat I had ripped off.
Two seconds later, and the paramedics were on scene to check me out. I yelled as they sat me up. My captain walked over to assess the situation.
The paramedics' fingers ran down the length of my spine, poking and prodding. I yelled when he hit my lower back. "Nothing's broken, but you need to go to the hospital and get some x-rays." He signaled for his partner to bring over a backboard and stretcher.
"Take her," my captain said before walking away. He went two steps, stopped and looked in my direction. "Damn good save, Malone."
####
To celebrate the release of the fourth novel in The Butterfly Memoirs series, I am giving away a basket filled with Butterfly Memoirs goodies, including autographed paperback copies of ALL FOUR BOOKS!!!!  All you have to do is follow the month long blog tour and Tweet, Like, and Share!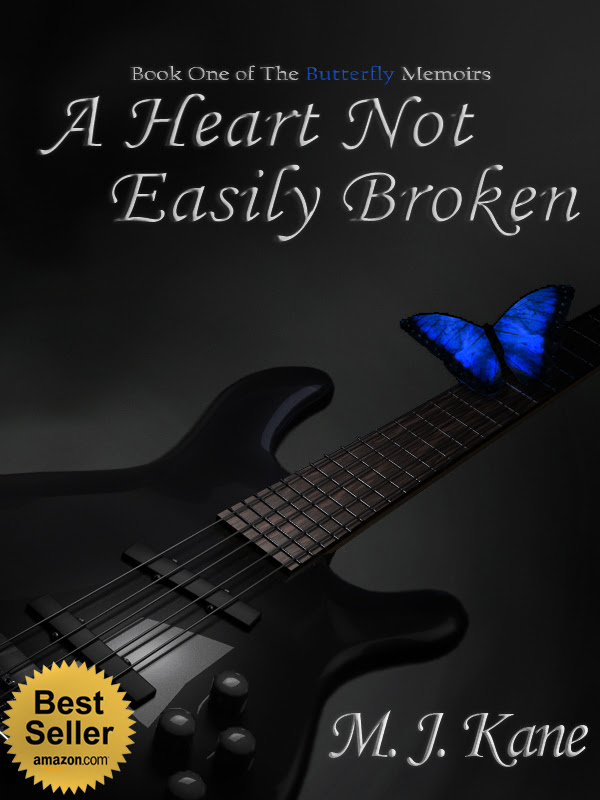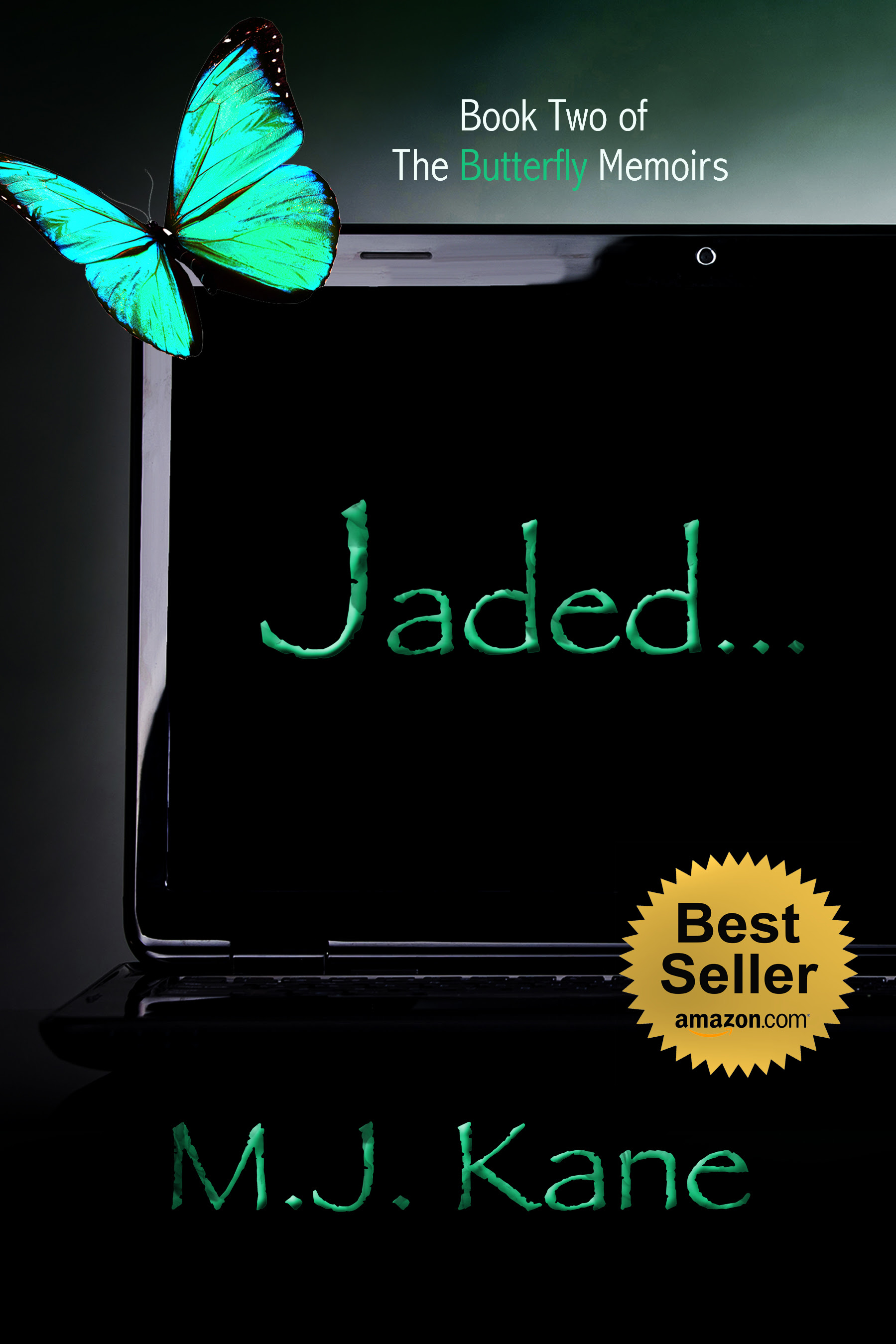 About the Author:
M.J. Kane stumbled into writing. An avid reader, this once stay at home mom never lost the overactive imagination of an only child. As an adult she made up stories, though never shared them, to keep herself entertained. It wasn't until surviving a traumatic medical incident in 2006 that she found a reason to let the characters inhabiting her imagination free.  Upon the suggestion of her husband, she commandeered his laptop and allowed the characters to take life. It was that, or look over her shoulder for men caring a purple strait jacket. And the rest, as they say, is history.
No longer a television addict, if M.J. isn't reading a book by one of her favorite authors, she's battling with her creative muse to balance writing and being a wife and mother. She resides in the suburbs of Atlanta, Georgia with her high school sweetheart, four wonderful children, and four pit bulls. During the day, MJ is a librarian, in her spare time she is director of a local writer's group, or online connecting with readers and other authors. Other activities she enjoys include: creating custom floral arrangements, assisting her children in their creative pursuits of music and art, and supporting her husband's music production business, 3D Sounds.
It is with great pleasure that I welcome fellow author, M.J. Kane to my blog! M.J is the author of A Heart Not Easily Broken, book 1 of The Butterfly Memoirs Series and she has recently released book 2, Jaded. But before she tells us about her latest release, lets find out a little about the writer behind the books.
Okay M.J., tell us a little about yourself.
Well, the person behind this pen, (or keyboard!), is a stay-at-home-mom with a very over active imagination. I once thought it was because of being an only child and spending a lot of time making up stories to entertain myself. But since I am an adult with four kids, a hubby, and six dogs, I now see storytelling as a gift! I am also a stroke survivor, and by that I mean I really survived. After nearly dying in in 2006 and recovering from partial paralysis, every day is a blessing. Discovering I have a talent I wasn't aware of before has aided in my recovery.
Wow, you're truly a walking miracle and it's wonderful to hear that your writing talent has aided in your recovery!
Now M.J., your featured book is Jaded, where did you get the idea for this story?
The idea for Yasmine's and Zack's story came from a song by Kem called Love Calls. I'd finished writing A Heart Not Easily Broken where Ebony and Brian found their HEA, but I'd left Yasmine hanging by a thread. I knew I wanted her book to be about her journey back to love, but was not sure how to write it. One day, I was cleaning house and listening to my iPod and the song came one. I have the tendency to listen to the beat only and lyrics last. That day, I actually listened to that song over and over and over again. In fact for the rest of the week that was pretty much the only song I listened to. The lyrics are about a person who's had a bad experience in love before and fears taking the risk to be hurt again. Knowing Yasmine's past history was fraught with disappointing relationships, I decided to create a male lead that had the same past issues. Putting two people together who want to love and be loved, yet play the game of being 'just friends' interested me. And of course, friends-with-benefits relationships are nothing new to books, television, and movies, so I added a twist. The book isn't just about two people unable to fight the attraction and avoid a relationship. I wanted to focus on if the relationship would continue to bloom or if it would fail once the HEA was reached, and real life issues snuck in. How far would one go to keep what they thought they would never have? When do you know you're making the right decision? How much can you trust someone with your heart and know that despite mistakes, what you have is real? Those are the issues faced by the characters in Jaded.
How long have you been a writer and what keeps you writing?
I didn't start writing until 2009, after my husband suggested I pull out a short story I'd written as part of a fan fiction challenge. He challenged me to complete it, and from there, my interest in writing and character development took flight.
Well, I for one am glad he challenged you! Are you working on any other writing projects? 
As of now, I am working on the third novel in The Butterfly Memoirs Series, Lonely Heart. This story follows the third friend, Kaitlyn Rodgers, that was introduced in A Heart Not Easily Broken.
A devastating breakup leaves Yasmine Phillips in shambles. Unable to trust another man with her heart, she focuses on the one thing she can control—starting her own business.
When her computer crashes, taking months of hard work with it, she must rely on computer genius Zachariah Givens to save her. A complete opposite of men from her past, she doesn't expect the passion that ensues. But just as she finds happiness, she learns the truth about the other women in Zachariah's life.
What makes your characters unique?
Allowing my characters to tell their story by writing in 1st Person, and not only following the female leads story, but developing a story that is just as deep and life changing for the male lead makes my characters unique. Also, the issues that challenge them are everyday problems that readers may have experienced or can relate to. Doing so makes it easier for readers to relate to them and become emotionally invested in the story.
Excerpt from Jaded:
I closed my eyes in an attempt to find pieces of the wall I built around my heart. It was impossible; Zack had chiseled them away in the short time we'd known each other. The pain plaguing me from past relationships was easily forgotten while in his arms.
"Yasmine," his whisper husky, the laughter from earlier gone. "Look at me."
I did.
Never had a man's gaze pulled me in this hard. Desire replaced reasoning, a feeling so strong it could not be ignored. How did this happen? Was it the theme of the day, the alcohol consumed, or the fact this man seemed to have eyes only for me?
Zack gazed hungrily at my mouth and licked his lips.
Panic built inside. This could not be happening. I couldn't ignore the fact I wanted it.
Maybe even needed it to happen.
"Yasmine…"
My lips parted of their own volition as Zack lowered his mouth to mine.
The moment our lips connected the world stood still. Breathing ceased as desire exploded inside of me, drawing me deep into forbidden territory.
Who knew a kiss this simple could be this earth shattering?
I pressed closer, my hand slid over his chest; the heat of hard flesh through fabric drew me in to accept everything he gave.
The first slid of his lips was a soft contact, testing. The second, an exploration of the water, dipping a toe into the pond.
The third was so much more. My mouth opened involuntarily and Zack's tongue caressed mine.
He tasted like the wine he'd taken from me. I gripped his shirt as an uncontrollable whimper escaped. Zack responded by releasing my other hand and slipping his to the nape of my neck, holding my mouth hostage to the onslaught of his kiss.  We no longer moved to the music.
All control was lost. The desire to pull him the short distance to my bedroom to ease the ache in my heart and the need to have his naked body against me was the only thing on my mind.
This was not supposed to happen. We were friends, not lovers. I valued his friendship. Our relationship was perfect. With no strings, no attachments, and no commitments, neither of us risked being hurt.
We were supposed to be platonic.
Then why did his mouth feel so good? Why did his controlling grip cause my body to weep for more?
I forced myself off this natural high and focused on his response. My eyes closed, I listened to his breathing as he continued his assault on my senses.  It was as ragged as mine. Damn, he felt it, too.
I pulled away from his mouth, struggling to be free of his arms. "I can't do this…"
"Yasmine," he held firm, "don't leave."
"Let me go, damn it, Zack, let me go," I was unable to keep the panic from my voice.
Zack stilled, his brow lowered. "I wasn't trying to hurt you."
I looked away, not wanting him to notice the tears about to hit. "I know…just…I can't, please," I implored.
"Yasmine, we need to talk about this." When I looked back, his expression seemed as pained as the way I felt.
I shook my head, "I can't."
He lowered his gaze and loosened his grip, allowing me to wiggle free.
I avoiding the festivities by slipping into my room by way of the patio.
"I'm sorry." Zack's apology drifted over as I slid the door closed behind me.
Today I have a fabulous blogger, M.J. Kane, visiting and introducing her newly released novel – A Heart Not Easily Broken.  Please join me in welcoming her! Alright M.J, take it away!
A Heart Not Easily Broken: A Story about More than Just Race
By: M.J. Kane
Career goals, family, relationships. No matter what race, we all face the same issues. It's how we deal with them that sets us apart.
Ebony Campbell and Brian Young, of A Heart Not Easily Broken, are an interracial couple. Fear of disapproval from her family cause Ebony to question her sanity when she finds herself drawn to Brian. His persistence, confidence, and willingness to support her career goals have her falling for the man, not the color of his skin.
But will she be able to maneuver the minefield of problems that ensue?
Ebony's independent nature leads her down a path that threatens to destroy their relationship. A decision she is forced to make rips her to the core. Friendships are tested, along with her ability to overcome a nightmare.
Love, no matter what color, can't withstand lies and deceit.
Ebony is a smart, sexy, career-oriented black woman who wants nothing more than a summer fling with a man who challenges her mind and body. What she doesn't expect is a blond haired, blue-eyed bass player—who won't take "no" for an answer—to accept the challenge.
When Ebony's attempt at a brief fling turns into more, despite negative reactions from friends and family, she finds juggling love, family, and career are nothing compared to the ultimate betrayal she endures. Now her dreams spiral into lies and secrets that threaten her future and her best friend's trust.
Excerpt:
"I'm okay."
Then why did it sound like a lie?
From the moment Ebony arrived, she'd been crying. I suspected something was wrong for months. But what?
Ebony never gave me the impression of being needy or clingy. She was strong and independent with a good head on her shoulders. Why the sudden change?
It still irritated me that she had refused my help before I left. Some of the women in my past would have jumped at the opportunity. I didn't get it. Why would she think my helping her would be an inconvenience? Didn't she know how much I loved her? How much I wanted to take care of her? I made my intentions clear.
We'd been together for nearly five months. We'd just scratched the surface of each other's lives. A typical relationship would mean we would know more about each other than we did right now; but our relationship wasn't typical.
While I was away, a part of me worried she would one day refuse my calls. Nothing, not even how good the sex was, required her to wait for me.
I risked everything we'd built when I accepted the job. I never asked how she felt about me leaving her behind. I assumed everything would work out, because it's what I wanted.
The opportunity of a lifetime.
But love, true love, only happened once.
Did my decision to leave cause the change?
What I felt was real, and she seemed to feel the same way. We'd talked every day I was gone. I'd faithfully deposited money in her account every week, even when she said she didn't need it.
I looked over at the love of my life as she slept. Ebony had no idea how beautiful she was. This was the image I took to bed with me every night while away. This is what I thought of when woman followed me around at the after parties or hung around backstage offering sex in order to get closer to the artist we played for.
Two weeks into the tour, I stopped counting how many women sneaked into my bedroom with offers I ordinarily wouldn't refuse. Nobody could take Ebony's place. Losing her because of some stupid one-night-stand would not be worth it.
Now we were together again.
Why the hell was I paranoid?
A Heart Not Easily Broken is available now from 5 Prince Publishing! Buy Now!
ABOUT THE AUTHOR
M.J. Kane stumbled into writing. An avid reader, this stay at home mom never lost the overactive imagination of an only child. As an adult she made up stories, though never shared them, to keep herself entertained. It wasn't until surviving a traumatic medical incident in 2006 that she found a reason to let the characters inhabiting her imagination free.  Upon the suggestion of her husband, she commandeered his laptop and allowed the characters to take life. It was that, or look over her shoulder for men caring a purple strait jacket. And the rest, as they say, is history.
No longer a television addict, if M.J. isn't reading a book by one of her favorite authors, she's battling with her creative muse to balance writing and being a wife and mother. She resides in the suburbs of Atlanta, Georgia with her high school sweetheart, four wonderful children, and two pit bulls. MJ can often be found hanging out at the local library where she is director of a local writer's group, or online connecting with readers and other authors. Other activities she enjoys include: creating custom floral arrangements, assisting her children in their creative pursuits of music and art, and supporting her husband's music production business, 3D Sounds.
You can find MJ on social networking sites, sharing writing tips, talking about music, life, and family. She's always excited to meet new people. Connect with her via the websites below.
Thanks for stopping by M.J and sharing a little about your debut novel, A Heart Not Easily Broken! I love the title by the way!
Okay, all, M.J. is doing a giveaway!! Here's how it works: Everyone who comments will be entered into the A Heart Not Easily Broken Blog Tour Drawing for a chance to win an autographed copy of the book! For contest details, visit http://thiswriterslife-mjkane.blogspot.com/p/blog-tour-roll-call.html.
Let's show M.J. some love by leaving a comment!
Best Selling Author Sharon C. Cooper

Coming Soon!

New Releases!

Best Sellers Now Available!

Just Romantic Suspense Giveaway!

Archives

Recent Posts

Sharon C. Cooper, Just Thinking…